Olympic Champion, five-time World Champion and winner of seven World Cup stages, Marie Dorin-Habert is a world biathlon legend.
The story begins in 2000 when Marie starts practicing biathlon. In 2009, nine years later and six years after her first professional race, Marie stepped on the podium for the first time in a biathlon World Cup stage. Important achievements followed quickly with two first Olympic medals at the Vancouver 2010 Olympic Games, bronze in the sprint and silver in the women's relay. Marie also finished for the first time in her career in the top 10 of the women biathlon World Cup.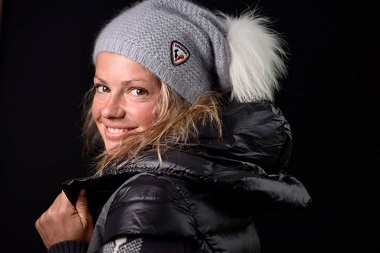 Some years will follow with fewer good results, despite four new medals in relay during the World Championships. Marie participates in the Sochi 2014 Olympic Games and then announces her pregnancy at the end of the season. Her first daughter Adèle was born at the end of 2014, after which she resumed competition.
When she comes back at the end of 2014, she is immediately successfull with four medals at the 2015 World Championships, including two gold medals in sprint and pursuit. On her momentum, Marie achieved an exceptional 2015-2016 season punctuated by a second place in the overall ranking of the Biathlon World Cup, but above all an extraordinary achievement at the World Championships in Holmenkollen in March 2016.
Marie won a medal in the six races of the World Championship: gold in the individual, mass start and mixed relay; silver in the sprint and women's relay; bronze in the pursuit. She is only the second biathlete in history to achieve this performance after the Norwegian Tora Berger in 2013.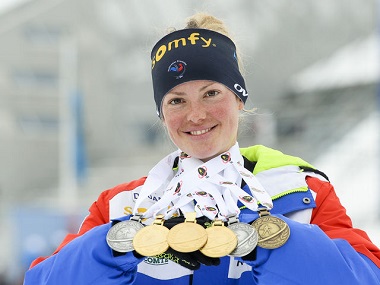 After a very good 2016-2017 season during which she finished fourth in the overall ranking of the Biathlon World Cup, the 2017-2018 season leading to the Pyeongchang Olympics is more difficult for Marie. While she was not supposed to participate, she finally competed in the mixed relay and became Olympic Champion with Anaïs Bescond, Martin Fourcade and Simon Desthieux. She also won the bronze medal in the women's relay.
Marie retires from sport at the end of the 2017-2018 season and can focus on her personal projects. In 2018, she launched Zecamp, an accommodation and catering centre dedicated to sports enthusiasts in the Vercors. His second daughter Evie was born in January 2019 and his first book "You walk, he walks, they walk... I run" was published on 7 November 2019.